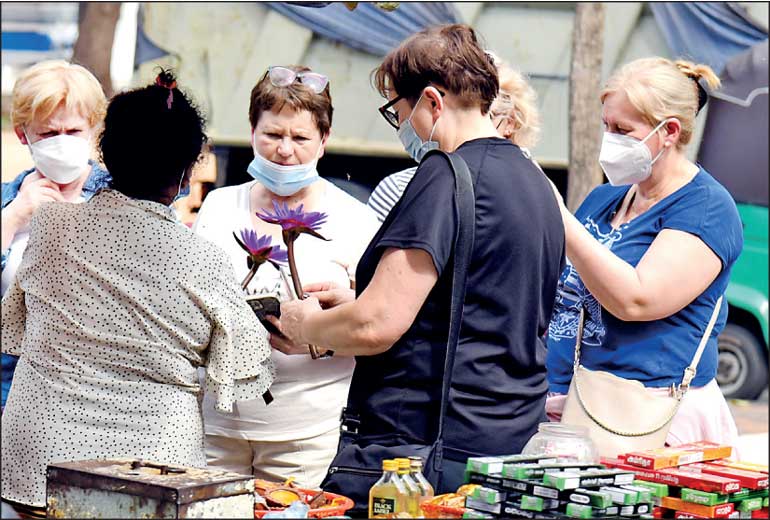 A group of tourists buying flowers ahead of the visit to the Gangaramaya Temple in Colombo  – Pic by Ruwan Walpola
---
Tourism Minister Prasanna Ranatunga expects 100 k visitors this month
Confirms $ 300 m earnings so far in 2022
SL welcomes 164,898 travellers YTD
First 24 days of February draw 82,571 tourists averaging 3,400 per day
---
By Charumini de Silva
---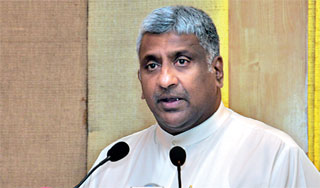 Tourism Minister Prasanna Ranatunga
Considering the sharp rebound in arrivals, Tourism Minister Prasanna Ranatunga expressed confidence in luring 150,000 monthly visitors in the next six months. 
"I hope we could end February with 100,000 tourists and our target is to attract 150,000 visitors each month in the next six months," he said on Thursday, thanking Sri Lanka Tourism and industry stakeholders for their efforts in reviving the industry post-pandemic.
Last week, he told the Daily FT that the monthly target of tourists could soon top 200,000. (https://www.ft.lk/front-page/Tourism-Minister-renews-hope-on-200-000-monthly-arrivals/44-730691)
As per provisional data released by the Tourism Ministry on Wednesday, Sri Lanka has received 164,898 travellers so far and during the first 24 days of February a total of 82,571 tourists visited the country, with an average of over 3,400 tourists per day.
Amidst a surge in its COVID cases, Russia continues to dominate among the top tourist source markets for Sri Lanka with 26,597 followed by India with 22,304, UK 16,638, Ukraine 12,979 and Germany 11,684.
Minister Ranatunga also said that Sri Lanka had earned around $ 300 million so far, while the target for the year was $ 4.5 billion.
Sri Lanka recorded its all-time high of 2.3 million tourists and $ 4.3 billion earnings in 2018. Thereafter, it dropped to 1.9 million in 2019, which marked the year of the Easter Sunday tragedy, followed by the COVID-19 pandemic which brought the industry to a standstill with just 507,704 tourists in 2020. Sri Lanka finished 2021 with 194,495 tourists, with December attracting 89,506 – the highest for a month since the onset of the pandemic in March 2020.
Source : https://www.ft.lk/top-story/SL-targets-150-000-monthly-tourists-in-next-6-months/26-731167
Source From srilankatravel
Author: srilankamiracle
#SriLanka #News #lka