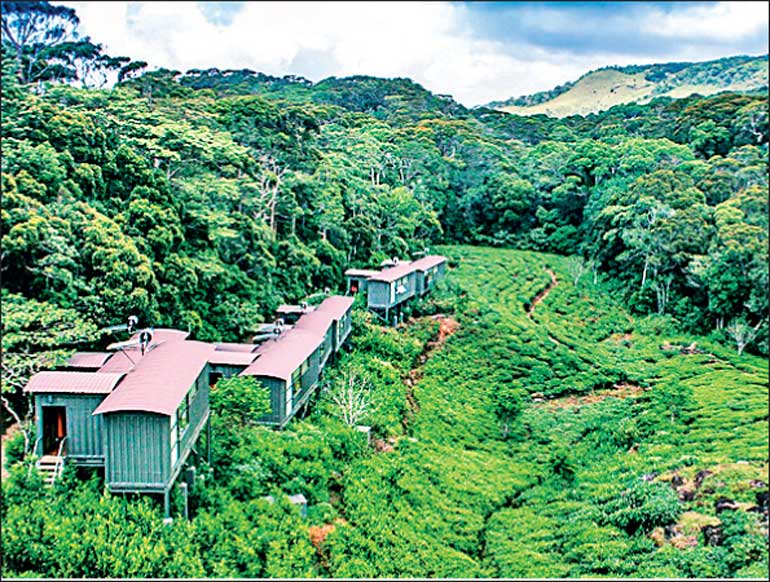 Rainforest Ecolodge, Deniyaya
---
Becomes first eco lodge to be classified in Sri Lanka
The Hotels' Classification Committee has made a determination on Rain Forest Lodge as the first eco lodge to be classified in Sri Lanka, with effect from 2 June based on newly introduced criteria as per Tourism Development Act No.38 of 2005.
According to a communique by SLTDA Chairman Priantha Fernando the conceptual development falling in conformity with laid down criteria to ensure high quality, standards, and services requires commitment and a considerable investment, to ensure overall sustainability from a tourism perspective.
It was emphasised that in a highly competitive global environment, diversification and pioneering efforts will make a positive contribution not only from a tourism dimension. It ensures that the tourism product is aligned to cater to high-end tourists, ensuring an influence from an economic breadth as well.
"The efforts that have gone in are commendable and whilst urging the management to maintain the required high standards overall, we, Sri Lanka Tourism Development Authority would like to felicitate the architects and promoters of Rainforest Lodge," Fernando had said.
The Rainforest Ecolodge, Deniyaya prides itself as the only hotel to be awarded the LEED Platinum award in Srilanka, 4th in the whole of Asia and 5th in the world. Designed and constructed according to guidelines of resource conservation and environmental design. The hotel had to exert massive efforts to comply with each standard in sustainability ensuring that the forest habitat will not be destroyed and disturbed. This required a heavy investment and a deeper concentration in order to stick to the guide lines set by the US green building council. As a hotel committed to sustainable practices and recognised for its conceptual design in Eco tourism, Rainforest Ecolodge strives to offer the best in terms of service and offerings.
The Rainforest Ecolodge thrives on a five hundred-acre division of the Enselwatte Tea Estate bordering the South-eastern side of the Sinharaja Rainforest, with forest reserve.
Source: https://www.ft.lk/front-page/SLTDA-accolade-for-Rainforest-Lodge/44-749230
Source From srilankatravel
Author: srilankamiracle
#SriLanka #News #lka